Do not be mistaken by my post title, I am not here speaking about Unions of workers. But this tittle was in a movie I recently saw about one of these Unions and the power of this sentence really resonated to me.
I am a confessed romantic and romantic comedies are normally my risk free sort of a movie. So when I am persuaded to see other movie types I always expect to be some sort of disappointed. But funny enough in my last two trips to the UK, I saw two movies, thanks to my cousin Margarida, that never in a million years I would have chosen much less watched. I honestly don't think they were ever in exhibition here in Portugal, since they are English films, but still. And guess what? I liked them!
The last one spoke, between other things, about the miners strikes in the UK some years back and their Unions. One of them had that amazing compilation of words: There is power in a union. And so there is! Why? because the power of two united is much greater then two by themselves.
If you take some time to think about it then you will realize, like me, that this applies to so many aspects of our daily life, of our interactions and relations with others. Friends, family, lovers, associations, are unions of people. And we get stronger because we are united by a common cause, principle or factor in all of those circles we are part of.
In my recent work trip to London, I decided to bring my little girl with me. It wasn't easy combining meetings with our time together but I wanted us to have some special time, so decided to take a chance. I don't regret a minute of it, in spite all the things I had to push along and carry! Nine years ago I did the same thing with Gonçalo, one of our boys and we both still cherish those days tremendously. We became more united, as parent and child, because of those moments.
We did girly things, we visited a museum with friends, went to the movies with family, traveled by train, bus, cab and plane! We even went to a trade show (we had a help from daddy that came to be with us to make this possible) and were so very lucky to be with two of our most talented friends: Paulinha (as Leonor calls her) and Pete. In all of these moments there were undeniable bonds present! Friendship, love, respect, common causes, common goals. I can honestly say we are so very blessed to have these many people in our lives!
I took some, ok, lot's of photos on this trip. Some are very bad and uninteresting, some remained an intention in my head but all of these represent moments of union I cherish a lot.
A little photo booth fun at the NEC in Birmingham! It was hard to know when the camera was actually taking the photos but I love the result!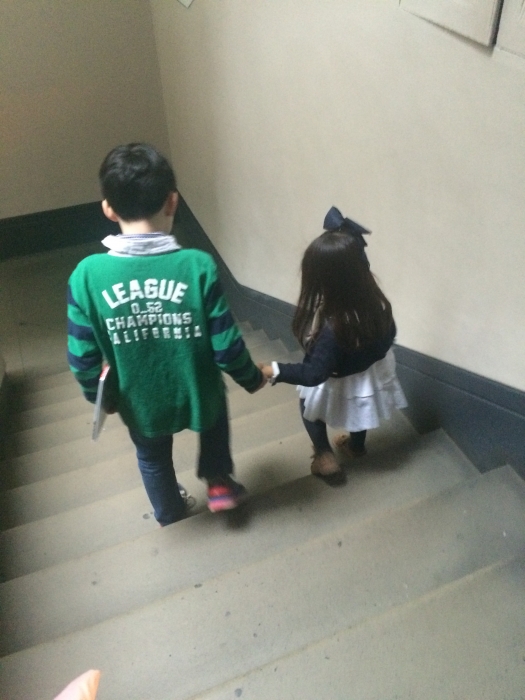 At the Natural history museum with Rodrigo! I am always amazed how easily children become at ease with one another!
Looking out of the window in a train: a typical photo I know, but haven't we all done it time and again?
Thanks to Yann we visited this shop in Covent garden! I have been there time and again and had never come across this treasure of sweets! next time you are in town (London) don't miss Hope and Greenwood.
If you have never heard about Pete Hughes, then you are missing out on one of the most talented artists I have the pleasure of calling my friend. Leonor asked him to draw so many Disney characters! And let me remind you she doesn't speak English but they certainly understood each other!
PdH? Pete Hughes stitched in a cardigan???? See how famous he is??? Paula Pascual, the other oh so very talented friend I have, took this hilarious photo! I know what I am giving Pete for his next birthday that is for sure!
Riding a big red bus is a must when you are in London. Eating cupcakes at Peggy Porschen too. Hamley's, China Town, M&M's world, Covent garden as well!
Ever since I saw that movie that the meaning of "there is power of a union! has been in my mind quite a lot. Why I don't really know. Maybe because I am a firm believer that we are better together than apart, because my family is my world and we are a union of different people with a common bond and goal: to love one another. Because true friends are hard to find but when we do find them there is a union between us that can hardly be broken. Because work can bring people together, hobbies can move people closer. Unions with people make us stronger and so just by bonding we create a force to be reckon with! I am so very happy to have so many of these unions in my life! If you are part of one of them, I can only say thank you!
Because life is a story worth sharing….