I was in Madrid for the best part of last week. It was my first big experience as a teacher in a consumer show and I must say I loved the experience! I am tired as h… but every second was worth it!
I was delighted to be a part of the Papel Vivo booth with my good friend Eva! We make such a good team and I can't thank her enough for these hard working days! We met lots of women and some men that share the same passion we do about paper, scrapbooking and bookbinding.
I was going to teach three different classes but ended up having to make a fourth project to teach on Sunday! Crazy, I know but my You are my Happy box looks, I must say, the prettiest thing ever (no time for photos yet).
This was my first group at the show! They were all super nice and very, very talented!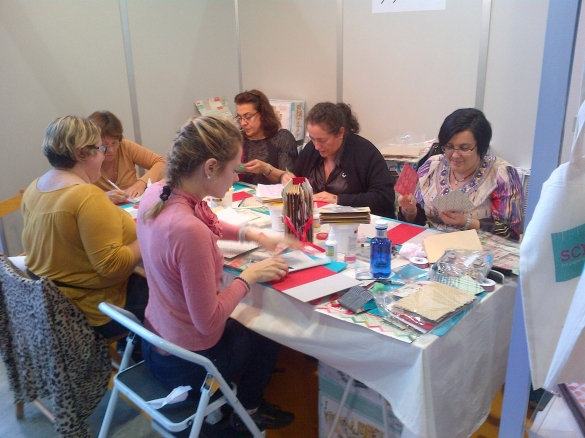 Eugenia, one of the girls in this class makes amazing dolls and bears, the old style way! And she came for two of my classes! I wished I had had the time to learn more with her.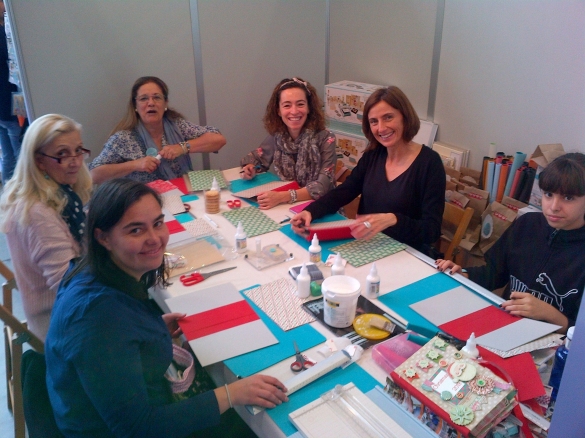 The Saturday morning bunch was the happiest of all! And, can you guess who finished first? Yes, the young girl! They made my Bundled Up Christmas organizer and they finished every single bit of decoration on it. It made me really proud. Toñy, Maleny, Paqui, Lola, Fanny e Marta: soys muy talentosas!
One of the girls in the group, Lola, had already come to the morning class. I admire all of them for being so high spirited after a long day of classes.
Nicola was my second male student at the show and I am so honored that such a great artist as himself came to my class!
The last class was Sunday at 4 p.m. and these are a group of 3 friends from Leon that came to it. I think this is actually the only photo I have with Eva at the show! And we don't look that bad either!
Here are some more photos of the lovely ladies and gentlemen who came to the classes!
The loving care I felt these days was truly amazing and I can't thank everyone enough for their comments and appreciation!
Chicas e chicos, estar con vosotros me ha encantado! Sois llenos de talento e de una gran capacidad de trabajo e de alegría! Me han dejado con una inmensa voluntad de volver a Madrid a dar clases muy, muy pronto! Espero volver a verlos todos en ellos. Un beso muy, muy grande
P.S. I will be teaching in Lisbon on Sunday, the 3rd,, in Ponferrada on the 6th and 7th and on the 28th in Coruña. Between all those dates I will be teaching in my own store in Porto, 512 Ideias. Just in case someone wants to drop by!