Every year, around the months of March or April, my life enters into marathon mode. I don't actually run the marathon or even take part in such sort of sporty thing but well I would say it is the close as it gets to it!
Why? Well because we organize what is still the biggest scrapbook event in Portugal by that time of the year. It is a huge task, gigantic and to be honest every year I say no more…just to start planning the next year within a few days after I utter such sentence! The event is called Chocolate Quente XL!
Basically we invite scrapbook designers from the US and the UK to come teach for two days and people can sign up to attend, by paying a fee. We set up a place, we organize the food, handle all the registrations, make the kits, deal with customs for what comes from abroad (and let me tell you that explaining what a brad is to a clearing agent is not easy), we organize the flights for the teachers, go get them when they arrive, pamper them because they deserve it just for taking the time to come, make the last minute always needed things, teach at the event itself and then clear everything in the end and put it back in place. Marathon like, right?
Yes, it is a gigantic task and everyone that ever decides that it is an easy one, well, you are so wrong! It is very rewarding though and that is why we keep on doing it. And when I mean rewarding, believe me again, it is not financially.
I am so THANKFUL for everyone that attended this year! The new comers and the regulars, the pros and the ones that had never scrapbooked before! The joy that I, and we as a company feel, to hear the praises, the comments, the blog posts, the facebook comments it is in fact what keeps us doing it over and over again. Thank you everyone!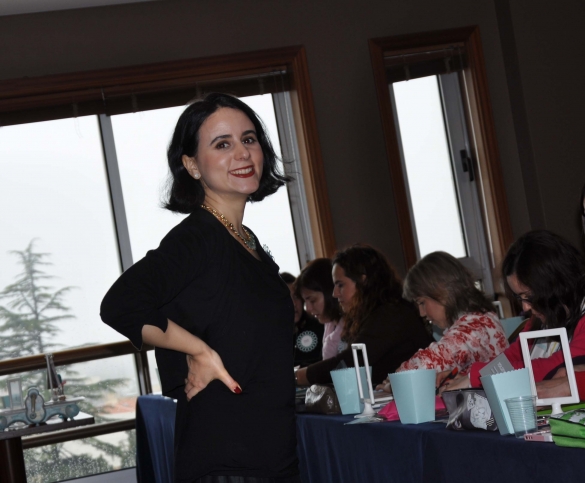 All that come become a friend and that is the biggest payment we get from all of this!
I have thanked each teacher personally but there are no words to describe how thankful I am to Beth Kingston, Teresa Collins, Paula Pascual and Jeff Filimoehala. You might think it is in an easy task but as a teacher myself I can assure you that facing an audience of people who you don't know, that speak a different language from yours is far from a piece of cake! For the courage, the time away from the family, the traveling, the work, the hugs, the support and for just being all so talented, thank you!
We had the usual group photos but there were so many people this year that we ended up not having one with all the groups! This is the one from my last class. And yes I looked that bad and had no voice by then!
Almost all of these ladies were from Spain so they deserve a special thank you as well for traveling from a far to be with us.
It is the fact that we have a great team and a great family behind it to support us that makes all this possible (p.s please remind me to have the team photo made on the first day and not the last hour of the last day!).
This year I really wanted to create something special! And well, I think I managed to do it! I love mini albums, always have and always will I guess. As mini as they are, they can hold so many photos and information! I used paper from Crate this time and the Oh Darling line was just what I needed to make an album for Leonor's most recent photos.
It was a hard task that involved sewing machine and all, but hey, who doesn't love a challenge, right?
The binder had a frame attached to it so it gained dimension and depth. It is easy to achieve and you can build your binder to match the size of an existing frame. This one is from Ikea.
I used the acrylic from the frame to create a different inner page. I stamped it with stazon and some doilies stamps. I honestly love the way it turned out!
I thought about this page for days and questioned myself over and over again if there was time to actually sew the paper in the class. Well I decided to go ahead and I do not regret it! Even if I was the one that in the end sewed most of the vellum pages, I still feel very good about it!
Some more of the inner pages: a banner one with a glassine envelope, a folded one with a side pocket and a simple one that lives because of the photo in it!
And guess what, I have some kits left of this class that I would love to give to some of my readers! So for your chance to win one of the 5 kits, please comment on the blog and tell me what is your favorite scrapbook subject and why! I am guessing you know my answer right?
I will announce the winners on Friday, the 2nd of May!