O início do meu ano é geralmente marcado pela visita àquela que é a maior feira de material de Scrapbooking (acho) do mundo. O CHA, como é conhecido, tem tido lugar em Anaheim, a cidade que alberga a Disneyland e que fica muito perto de Los Angeles. E este ano não foi exceção. Vi muitas coisas de que gostei, algumas das quais fazem já parte de uma longa lista de "preciso ter". * For me, every year begins with a visit to what I believe is the biggest Scrapbooking trade show in the world. For the last couple of years the show takes place in Anaheim, the city of Disneyland, just outside Los Angeles. And this year was no exception. I saw many different things that I liked and some are already a part of a big list of "must-haves".
Mas na verdade e muito para além de ver os produtos, as melhores recordações desta viagem são, sem sombra de dúvida, o contacto com as pessoas, o rever de amigos, as novas amizades travadas. O tempo mais bem empregue? Os longos minutos a conversar com a Diane Schultz, a fundadora da Graphic45 e que tenho a honra de conhecer e chamar amiga. Os momentos mais divertidos? As várias conversas com a Beth Kingston e as muitas pessoas a quem me foi apresentando. A maior surpresa? Receber os parabéns da fundadora da Crate Paper pelos trabalhos que faço com os seus produtos. Tantos segundos, minutos, horas que ficam para sempre na memória. * In honest truth, much more than the products I saw at CHA, the best memories from this trip are, without a shadow of a doubt, the contact with people, reconnecting with friends, making new friendships. The time best spent? The long minutes talking to the fabulous Diane Schultz, the founder of Graphic45 which I am honored to know and call friend. The funniest moments? The various conversations with my good friend Beth Kingston and the enomerous people she introduced me too. The biggest surprise? Receiving from the founder of Crate Paper congratulations for the projects I design with her products. Seconds, minutes, hours that will for ever stay in my memory.
Ao olhar para as fotografias não consigo deixar de sorrir e pensar quantas pessoas cheias de talento tenho o privilégio de conhecer. E o sorriso aumenta ao pensar naquelas que pelo trabalho, convívio e história em comum, passaram a ser amigas. As fotos falam mais ou menos por si e mostram os rostos de tantos momentos bem passados… a trabalhar! * Looking at the photos I can't help but smile and think about the number of people I am privileged to know. And the smile broadens when I think about those that thru work, common history and time spent together, have become friends. The photos speak more less for themselves and they show the good times spent…while working!
A super talentosa Debi Addams tem uma nova linha de cortantes, desta vez pelas mãos da Spellbinders. Adorei falar com ela sobre a sua viagem a Portugal e sobre, claro, papel! * The Oh so talented Debi Addams has a new line of dies, this time with Spellbinders. I loved talking with her about her vacation in Portugal and paper of course!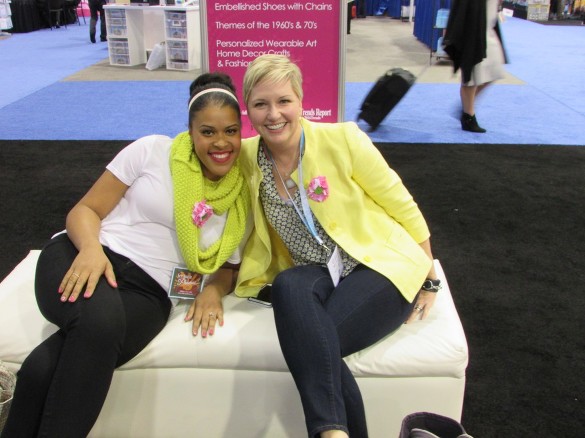 Sabem quando parece que os astros se alinham e acabamos de conhecer alguém de quem vamos mesmo gostar? Foi o que me aconteceu com a Amber Kemp-Gerstel. Adoro a Beth Kingston e esta dupla de designers esteve imparável durante toda a feira. Obrigada meninas por tantas gargalhadas! * Do you know that feeling when it seems like the planets have aligned and that you are really going to like someone you have just met? Well that's what happened with me and Amber Kemp-Gerstel. She and Beth Kingston, which I absolutely adore, were certainly the wonder team at this trade show. Thank you girls for so many laughs!
Como é que de repente a feira fecha, mudamos para um "look" mais informal e acabamos a noite a beber um copo de vinho com não uma, não duas, mas três estrelas de televisão???? Não sei, acho que de facto só mesmo na América. Mónica Potter, da série Parenthood (à esquerda e vestida de branco), Beth Kingston e Amber Kemp-Gerstel!!! Senti-me mesmo privilegiada. * How is it possible that the trade show ends for the day, I go and change for a more informal look and end up drinking a glass of wine with not one, not two but three TV stars??? Honestly no idea. Mónica Potter, from the serie Parenthood, Beth Kingston and Amber Kemp-Gerstel. I felt really privileged!!!
O grupo American Crafts tem muitos designers que admiro e sigo. Desde a doce Shimelle, que tive o privilégio de trazer a Portugal em Maio passado para participar num evento de Scrapbooking, passando pela Maggie Holmes de quem sou a fã número 1 e terminando na Jen Hadfield que desenha produtos tão imensamente bonitos, senti-me de facto muito feliz por passar algum tempo à conversa com estas 3 senhoras. * The American Crafts "family" has so many designers I love and follow! From the sweet Shimelle who I was so lucky to have here in Portugal last May teaching for us, to Maggie Holmes to whom I am the number one fan and ending with Jen Hadfield that makes so many beautiful products, I was really happy to spend some time talking with each one of them.
A fotografia ficou verdadeiramente má mas a doçura, generosidade, sabedoria de vida, graciosidade e beleza interior que esta fantástica senhora tem, Diane Schultz, compensa largamente este pequeno defeito da imagem. Não querendo desfazer o valente Jeff, vestido de Cavaleiro andante para promover a nova linha da Graphic45, Enchanted Forest. Obrigada queridos amigos! * The photo is really, truly bad but the sweetness, generosity, life knowledge, graciousness and inner beauty that this amazing lady has Diane Schultz, greatly compensates the poor image quality. Jeff knows how much I value him as well and he even dressed as Knight in charming armor for the launch of Graphic 45's new paper line, Enchanted Forest. Thank you dear friends.
Quando vi a foto do castelo de Chenonceau na parede, não resisti a perguntar à Brenda Walton se tinha gostado. E a partir daí foram minutos à conversa sobre que locais em comum já tínhamos visitado. Os cortantes que esta designer faz são dos meus preferidos e por isso não deixei mesmo passar a oportunidade. * When I saw the photo of Chenonceau castle on the wall I couldn't resist and asked Brenda Walton if she had liked it. After that we spent a long time sharing stories and finding out what places had we both visited. The dies Brenda designs are between my favorites so I just could not let this chance pass me by.
Fora das imagens ficam nomes como o Sean Edgar da My Mind's Eye, a Clarissa e o Jim da American Crafts, a Anna Davenport da Immediate Media, o Barry Short da Katy Sue Designs, a Lia Griffith e muitos outros que fizeram desta viagem de trabalho um verdadeiro prazer! Espero poder revê-los muito em breve. * Outside the photos stayed names like Sean Edgar from My Mind's Eye, Clarissa and Jim from American Crafts, Anna Davenport from Immediate Media, Barry Short from Katy Sue Designs, Lia Griffith and many others that made this business trip a real pleasure. I hope to see you all soon in a not so different future.
Claro que uma viagem destas desperta em mim uma vontade imensa de criar, de desenhar, de fazer. E apesar de estar a trabalhar em algumas surpresas (boas surpresas), aqui fica uma pequena série de cartões que fiz com um dos meus papéis preferidos: o papel Kraft * Of course that a trip such as this one always makes me want to create, design, do. And although I am working on some soon to be revealed surprises (good surprises), here is a small serie of cards I made with Kraft paper which is one of my favorite things.
Embora goste muito de carimbos, a verdade é que não costumo usá-los muito mas quando vi os carimbos da Graphic45 da coleção Children's Hour fiquei apaixonada. São tão imensamente doces! Depois foi carimbar, "embossar", cortar e colar os diferentes papéis e o resultado foi este. Espero que gostem. * Although I am a big fan of stamps the truth is I don't really use them much but when I saw the new stamp sets from Graphic 45 Children's Hour paper line I fell in love. They are so tremendously sweet! After that it was a question of stamping, embossing, cutting and gluing to end up with this small set. Hope you like them.
Produtos utilizados * Products used
Cartolina (cardstock) branca, vermelha e Kraft* White, red and kraft cardstock
Almofada para carimbo "Pure White" Avery Elle * Avery Elle Pure White Ink pad
Pó de embossing "Opaque Vanilla White" da Wow * Opaque vanilla white embossing powder by Wow
Cola PVA da Stix2 * PVA glue by Stix2
Carimbos "Children's Hour" 1, 2 e 3 da Graphic 45 * Children's Hour stamp sets 1, 2 and 3 by Graphic 45
Simples e elegantes como gosto! * Simple and elegant as I like them!
Porque a vida é uma história que vale a pena partilhar, obrigada por fazerem parte da minha. * Because Life is a story worth sharing, thank you for being part of mine.
P.S Ainda ninguém descobriu a grande novidade no blog….. quem arrisca?